July/August 2017 issue of Oracle Magazine.
This issue's cover feature, Great Integrations, describes the integration journeys of three organizations using Oracle technology, including Oracle Integration Cloud, to combine third-party data sources and applications, connect on-premises systems and cloud services, and deliver real-time results in mobile apps (built with Oracle Mobile Cloud Service) and in SaaS applications from multiple vendors.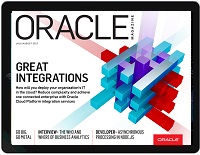 Also in this issue, Analytics for Business describes how organizations are using the features and capabilities of Oracle Analytics Cloud to combine data sources and front-office and back-office systems to enable both IT and business users to do their own analytics.
Especially for developers, Maps Within Reach provides steps for using Oracle Mobile Cloud Service and Oracle Mobile Application Accelerator to build a sample mobile map app for a traveling sales force, and Asynchronous Processing in Node.js presents part 1 in a four-part series on how to do asynchronous node.js development.
In addition to all of the new customer and partner coverage (featuring seven different organizations) and technology how-to articles, this issue comes to you on a new digital magazine platform that allows you to print articles from your browser and download a PDF of the issue for offline viewing. There's full-text search, direct social sharing is available on all devices, and no password is required.
All 2017 Oracle Magazine issue content is available now on the new magazine platform. You can read the issue, and all 2017 issues on your desktop, laptop and mobile web browsers.